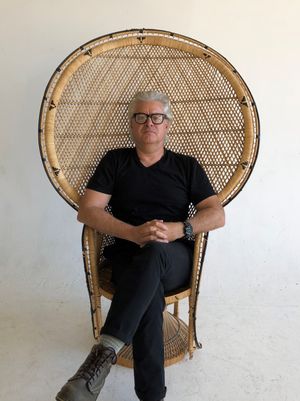 COMMUNITY AND PRESS 
 ALL EVENTS
"He is one of the most unique American artists in that his sound is a fusion of funk, jazz, blues, gospel and soul".
BURBANK LEADER 
"It's a great piece ("The Sun Will Rise")…it's mostly a blues piece.  The string quartet provides a blues base that encourages the saxophone to improvise.  It's programmatic to the Katrina tragedy, respectful and hopeful". 
INDIE PULSE MUSIC MAGAZINE
"Scott Detweiler, a fantastic guitarist and artist..."
LOS ANGELES TIMES
"Scott Detweiler will be performing and if good music is what you're after, then you won't be disappointed"
PASADENA WEEKLY
"He was the first blues artist to premiere an original blues chamber composition, "The Sun Will Rise," and follow with a performance by his jazz quartet, in Los Angeles.  Before his "overnight" success, Detweiler studied orchestration with Ellis Marsalis, writing for strings with Henry Mancini and lyric writing with K.A. Parker. Impressive resume." 
 SANTA MONICA PUBLIC LIBRARY CONCERT SERIES  
"The Detweiler opus ("The Sun Will Rise: a Chamber Piece in Four Movements for Alto Saxophone and String Quartet") was great.  Who would expect a string quartet to really rock? The integration of the bluesy sax was very satisfying…" 
 WAVELENGTH MAGAZINE
"Ballad meets funk…..instrumental dexterity is only one characteristic of his music.  Detweiler has a superbly powerful  voice, controlled and delicate at times." 
RADIO 
BILL EVERATT - presenter of the Underground Edition (Celtica Radio Wales, UK)
 "I've always been a fan of blues music from Bo Diddley, through The Yardbirds, Led Zeppelin, and to the Marcus King Band.
Scott has that unmistakable element  of the Mississippi Delta in all of his superb and laid back songs"
PAM BAUMGARTNER – rock radio personality (KPPQ Ventura, California) 
"A super talented musician out of New Orleans.....I'm jazzed to have included Scott Detweiler on my radio show.  So funky, so good! Looking forward to hearing more from Scott in the future!" 
JEFF FLORO - host of LA Talk Radio's "All About Guitar" (LATalkRadio.com streaming from Los Angeles, California)
"Scott is quite a multi-faceted artist...fascinating person...great musician....does a lot of different things...."
MARTIN PERLICH – classical music radio personality (KCSN Los Angeles, California)
"Detweiler is a unique American composer …." 
BOBBY ZENO – blues radio personality (KPFK Los Angeles, California)
"Scott is a very unusual  artist…." 

CATFISH - presenter of The Catbluz Radio Hour (Long Beach, California Public Radio, KLBP RADIO 99.1 FM/Mixcloud Podcast)
"Scott is a great singer, songwriter and guitar player...he's on the next level.....'Memphis Bound' is a great album"
CLICK HERE FOR FULL STREAMING INTERVIEW
ARTISTS AND EDUCATORS 
RICKY STEVENS - Veteran Blues Authority, Author and 24 year International Blues Challenge judge
"One of the most interesting performances I saw at this year's International Challenge was by Scott Detweiler.  He did three selections from his composition, "Magnificat In Blue", an oratorio based on the first couple of chapters of the Book of Luke.  All I can say is that I now understand the meaning of the word "mesmerized"....I was one of the judges Thursday night.   I'm not used to hearing words like, 'Magnificat' and 'oratorio' in a blues setting.  After my initial confusion, my next thought was 'How will he pull this off and keep it in the blues genre?'....You did it.  Thank you for one of the most memorable performances in my 24 years at IBC."

JAMES ANDREWS - New Orleans trumpet/vocalist recording artist
"Scott has it goin' on"
MIKE GLIONA - Los Angeles based concert producer
"Undoubtedly one of the most unique, engaging and downright quirky voices in blues...mesmerizing...the only band in Los Angeles serving it up like gumbo...deep NOLA roots and superb musicianship"

JOHN ANGOTTI - world-renowned composer, lyricist, speaker, monster singer/pianist, choir director and performer
"....an incredible player"

JIMI YAMIGISHI - Los Angeles songwriter advocate, journalist, singer/songwriter
"Scott is one of the best guitarists in Los Angeles"

GINO GAMBOA - Pervian artist and master cajonero
"Scott is a very gifted artist...his music and lyrics are very special...he is one of my favorite composers"

FERNANDO DEL VALLE – lyric tenor 
"I love Detweiler's "Hail Mary" (from "Magnificat In Blue")…. 
DON MOST - actor and singer
"I heard him and his band and I was so taken with this guy and his style and his sound and everything about him..."
JOHNNY D (John Dominguez) - drummer/2020 Los Angeles Living Legend Blues Award recipient
"I really enjoyed your performance with Albert Trepagnier, Jr...."
ROBERT HANLEY – actor and author 
"Scott Detweiler's MAGNIFICAT IN BLUE is an exceptional piece of art. It could be titled Heart & Soul—an 'eye-opening' communion of the heart of great New Orleans blues with the food-for-the-soul that all of us need who strive to live by the Word of God. I was particularly drawn to "Gabriel's Song," as it instantly provided a deeper feeling of God's greatness for me, today—and it happened centuries ago! Thank you, Scott Detweiler for creating and performing this unique interpretation of the Magnificat!" 
DALE JENNINGS - bassist/producer
"Scott is an amazing guitarist, singer and composer…" 
LYLE MAYS - pianist/composer
"He has an amazing voice....it is exciting to see such a high level of musicianship"
ELLIS MARSALIS – composer/performer/educator 
"Scott has the work ethic necessary to be a strong composer..."  
MICHAEL HARRIS - trumpet player (Phoenix Horns/Earth Wind and Fire)
"Scott can throw down"
LARRY MCRAY – saxophonist 
"I've played with them all….Scott has something special..."
BOBBY "HURRICANE" SPENCER - saxophonist  
"He's a motherf#%&er…" 
DR. ROSCOE WASHINGTON - JONES - educator
"…Detweiler is an important artist of our time…"